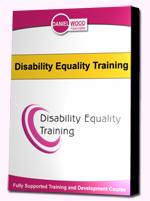 Introduction to the CD-ROM
Our Disability Equality Training CD-ROM is a comprehensive and fully interactive training course that is relevant to staff at all levels of all organisations.
The CD-ROM can be used as a 'stand-alone' training course or as part of a wider approach to ensuring that all staff have the knowledge and skills to "promote disability equality". This means that our CD-ROM based training can be followed-up with face-to-face training sessions that are always fully tailored to your own organisational requirements.


Course Certification
Every individual using the CD-ROM can gain two course certificates for their learning as follows:
On completion of the training, each leaner is able to print their own personal "Certificate of Course Completion".
Additionally, each learner can complete an on-line review of their learning and submit it to us. We then review each learner's submission and issue a "Certificate of Achievement".
Daniel Wood Associates liaises with each organisation on an ongoing basis to provide full details of every learner who has attained a "Certificate of Achievement". This approach enables each organisation to comprehensively review staff learning.

Support for Learners
The CD-ROM is designed to ensure that every user has access to an experienced trainer in the field of disability equality. Uniquely, every learner is provided with a password which gives them access to on-line support from highly experienced trainers and consultants. Every learner can ask their own personal questions and receive a personal response. Learners can also access the questions and answers that others have asked. This powerful facility provides a fully supported learning experience for every learner.

Customisation and Corporate Branding of the CD-ROM
The CD-ROM can be easily customised to your own organisational requirements, for example:
branding the CD-ROM packaging and content itself with your own corporate logos and images.
branding the web support with your own corporate logos, images and messages from senior leaders
altering course content such as case studies to ensure their full relevance to your own organisation.
Customisation is extremely cost-effective.
Please Note:- Each CD-ROM contains a single-user license. Each CD-ROM may be used by one specific individual only. If your organisation wishes to provide access for more than one learner, additional copies of the CD-ROM must be purchased; alternatively, contact Daniel Wood Associates about multiple user licensing. All contents of the CD-ROM are copyright of Daniel Wood Associates. The CD-ROM has been designed for PC use only. Users must have an internet connection to access the on-line support functions.


---
Daniel Wood Chartered FCIPD, Daniel Wood Associates, 23 Sunnyvale Drive, Longwell Green, Bristol. BS30 9YH.
Tel. 0117 9323826; email.